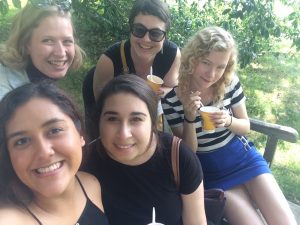 As our fellowship is coming to an end, I would like to fill everyone in on how these last couple of weeks were spent in the Digital Media & Collaboration Lab. Taking a step back, I have come to realize how much I have grown as a person, as an academic, and as a learner. Throughout this fellowship we were presented with multiple challenges to solve.  Each challenge was an opportunity to better our skills and a chance to learn how to face problems in the real-world. Unlike other summer internships, the Digital Scholarship Summer Fellowship has been unique in the sense that it has allowed us to truly learn to create, design, and execute our own project through teamwork and collaboration. Each person in our group had something unique to contribute to our project.
When we first began our planning process we had to learn to devise an effective project and to delegate tasks according to our strengths and weaknesses. Luckily, we were prepared for the initial stages of our project development, since we learned HTML, CSS, and Javascript during the first half of our fellowship, as well as issues dealing with web accessibility and design. Because of this, we were able to take all the skills we had learned and incorporate them in to organizing the tasks for our project. I truly believe that through the holistic preparation of this fellowship we were able to expand our problem solving skills through creativity, hard work, and dedication.
As I look back at all the meticulous planning and steps that we took to create the layout for the individual components of our project (website, word-cloud, and timeline), I realize that what we have accomplished has by no means been easy, but this has ultimately been a very rewarding undergraduate fellowship. Thanks to this program we were able to create a project from scratch, learn more about front-end development, visit a software development company, attend two conferences, and meet very interesting professionals working in the field of Digital Scholarship.
Prior to this summer Digital Scholarship did not hold the same amount of power for me that it now does today. As part of this fellowship we were not only able to conduct our own research, but also had the chance to learn about the complex, yet interesting world of coding and web design. With the skills that we have gained and the experiences that we have shared, I am confident that we will all go on to be successful professionals, whether in web development or in different fields. In learning how the web works, we have come to understand the process of developing and presenting a purposeful research project in an accessible and interactive manner.
Check out the fellows' presentation slides below.