Today, Del and I used the Adafruit Circuit Playground Express (pictured below) and making it little things to go on it online, on a website by Microsoft.
We decided to make an adaptation of the Siren project using an editor similar to Scratch from MIT. The Siren project is the first of the tutorials and is great for getting started. Once you get to Adafruit's website for making Circuit Playground Express projects, the Siren project should be the first project under Tutorials. It'll look like this: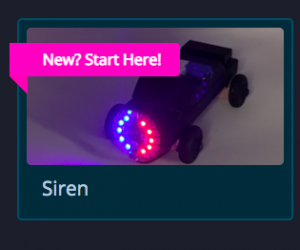 Del and I just decided to change up the project a little as we went. We don't actually have a name for it, but we did take a video of the finished project:
Want to try it yourself? Visit Bryn Mawr's Digital Media Lab or get your own here!