Artist Residency, April 8-14, 2019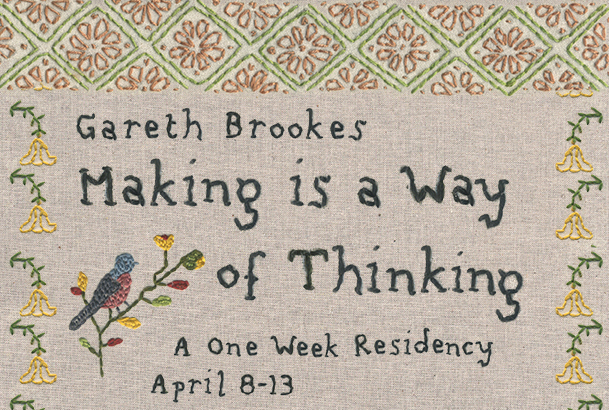 Artist and author Gareth Brookes will join Bryn Mawr for a week of presentations, workshops, and conversations. Brookes is the award-winning author of A Thousand Coloured Castles and The Black Project. His work ranges from linocut prints and embroidery to hand-stitched zines and comics that combine drawings, textiles, and pressed flowers.
Workshop: Beginning Embroidery

Learn the basics of hand embroidery. Intended for beginners. All materials will be provided.
Monday, April 8, 2019, 3:00 – 5:00 PM (London Room, Old Library) Register
Tuesday, April 9, 2019, 9:00 AM – 11:00 AM (Quita Woodward Room, Old Library) Register

Workshop: Digital Collage

Learn how to create mixed-media digital collages using Adobe Photoshop and creative scanning. Participants are encouraged to bring their own materials to scan: photos, textiles, print material, decorative paper.
Wednesday, April 10, 2019, 10:00 AM – 12:00 PM (Digital Media Lab, Carpenter Library) Register

Artists Talk and Q&A

Hear about Gareth's artistic process and his approach to critical making.
Thursday, April 11, 4:30 – 6:00 PM (Quita Woodward Room, Old Library)

Friday Finds: Embroidery Demonstration

Friday, April 12, 12:00 – 1:30 PM (Canaday Library 205)
Sponsored by LITS, EALC, CVC, and English. For more information, contact Alice McGrath or Shiamin Kwa.